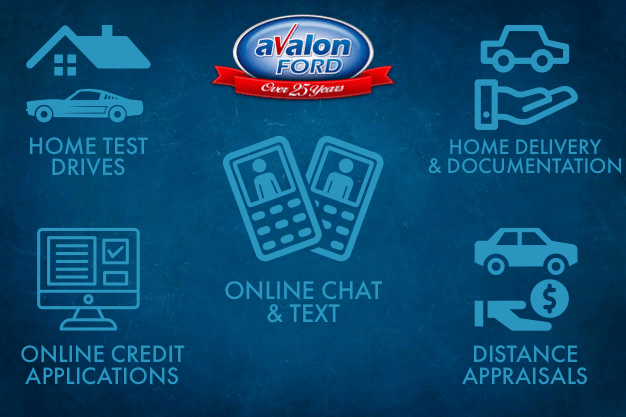 At Avalon Ford our top priority is the health and well-being of our staff, customers, and their families. These are different times for everyone right now and we have adapted to what is essential to you, our customer. Many of our services have switched to online, however, when personal contact is required we perform rigorous sanitizing on all our vehicles before and after all test drives. Our entire building is cleaned on a regular basis with special emphasize on customer touch points.
•
In person services are still available by appointment.
•
We are encouraging all our customers to avail of Avalon Online from the comfort and safety of your home to avoid any unnecessary in-person contact.
•
Our online services include:
o
Home Vehicle Deliveries
To Speak to a member of our Sales team today contact us at 709-754-7500 (St. John's) 709-786-1112 (Bay Roberts)
Reach us online at www.avalonford.com or our Facebook page
You can also text any questions to 709-907-0289
For our service department, we have implemented the following conditions:
o
Our shuttle service is suspended indefinitely
o
We encourage all customers to do a contactless drop off using our envelopes and drop box
o
We encourage all customers to arrange transportation from the dealership once their vehicle is dropped off, bu if that's not possible, we have limited our waiting area of 5 customers at a time provided social distancing is adhered to
o
Hand Sanitizer is readily available at multiple points
o
Masks are required for all customers at staff